I grew up in Milwaukee, Wisconsin – the smaller city on Lake Michigan known for its beer (Miller, Pabst, Blatz, Schlitz), sausage (Usinger's), summer festivals (Summerfest). . . and of course motorcycles (Harley-Davidson). Milwaukee is a working-class town, with foundries, factories, and warehouses seemingly on every corner of the south side neighborhoods known as the Third and Fifth Wards. During the 1960's and 70's manufacturing declined and instead of thriving with industry, these buildings sat vacant.
Opened in 2008, The Iron Horse Hotel is an integral part of the urban revitalization of the Fifth Ward. Used only for cold storage for over 50 years, the Iron Horse Hotel transformed the factory and warehouse of the Berger Bedding Company into a modern luxury boutique hotel that captures the spirit and heart of Milwaukee.
Much of the distinct architecture of the building designed by Milwaukee architectural firm of Buemming and Dick in 1907 remains intact. Thick pine and hemlock posts and beams, exposed Cream City brick and original metal fire doors serve a dual design purpose. These elements and more give the current hotel it's industrial-chic aesthetic while preserving the history of the original building.
In addition to using reclaimed materials in the hotel, other sustainable features include the use of post-consumer rubber as flooring and sound abatement material between the guest room floors. Energy-efficient operations like occupant-sensing systems were installed in each room that control and power down heat, electricity and AC. Water consumption is reduced through low-flow toilets and efficient bath fixtures, resulting in a potential reduction of water consumption by 25 percent.
Collaboration with local Milwaukee artists reinforces The Iron Horse's industrial feel. In the lobby, an American flag by Charles J. Dwyer made out of 32 pairs of blue jeans pays homage to the factory's hard-working past. Sculptures by Amber Van Galder constructed out of recycled aluminum and molded to resemble metal spills found commonly on foundry floors in the area are displayed in guest bedrooms. Inspired by downtown Milwaukee, photographs by Cindy Lesky give off an urban vibe.
Located across the railroad tracks from the Harley-Davidson museum, The Iron Horse Hotel is the only boutique hotel in the country geared toward motorcycle enthusiasts. On-site motorcycle parking complete with rag bins and check-in carts make it easy to transport saddle bags to rooms. Designed with durable tile entrances, rooms have custom hooks for hanging heavy leather and a bench for removing and storing boots and helmets.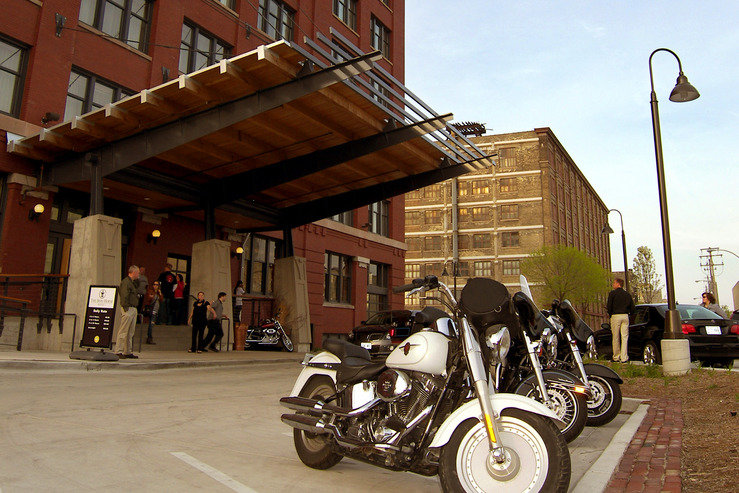 So – next time you are in the friendly city of Milwaukee, be sure to stop in the Iron Horse Hotel for a dose of design, history, and straight-up Midwestern culture. See you there – I'll be on the patio! (If it's not snowing of course).